Fujifilm's Orthopaedics solution:
Redefining frontiers with AI technology
ORTHOPAEDICS, MEET FUJIFILM
Innovative, sustainable and economical solutions brought to you by Fujifilm.
We are proud to present our comprehensive portfolio of medical imaging solutions. Offering CT, X-ray systems, detectors, workstations, and imaging tools, we have recently expanded this range to offer MRI, DXA and ultrasound systems. Read on to learn more about our current product highlights specifically for orthopaedic clinics and practices.
With over 80 years of expertise and experience in medical technology, we're proud to provide you with an individual experience coupled with comprehensive advice. We know in your challenging daily routine, where every patient needs full attention and your worklist is full, efficient workflows and innovative diagnostic tools are indispensable.
Open to something new? Let's talk!
TIME FOR A SECOND OPINION?
Speed up diagnostics with the use of Artificial Intelligence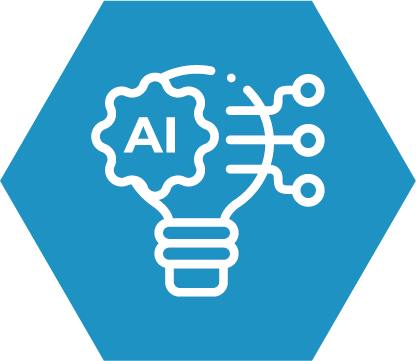 Our new BoneView™ diagnostic software enables you to find the right diagnosis, quickly. GLEAMER's Artificial Intelligence (AI) specialises in detecting fractures of the upper and lower extremities. Using AI can provide valuable help by automatically marking up your X-ray image.
Detection of minute fractures, effusions, dislocations and bone lesions in trauma radiographs that are inconspicuous at first glance.
Intelligent worklist for triage and prioritisation.
Easy installation or retrofit with EX-Mobile™ expansion unit.
BoneView is a trademark of GLEAMER
1
.
The simple way to add AI software to your solution
The EX-Mobile™ AI Unit is an additional accessory that has been newly developed using an open platform to provide an integrated operating environment for installing AI software. Its compact and lightweight design allows for operation in and out of the hospital to keep up with modern community demands.
30% fewer missed fractures with BoneView2
View unremarkable fractures, effusions, dislocations and bone lesions in trauma radiographs
Intelligent worklist for triage and prioritisation
Easy to install or retrofit with the EX-Mobile expansion unit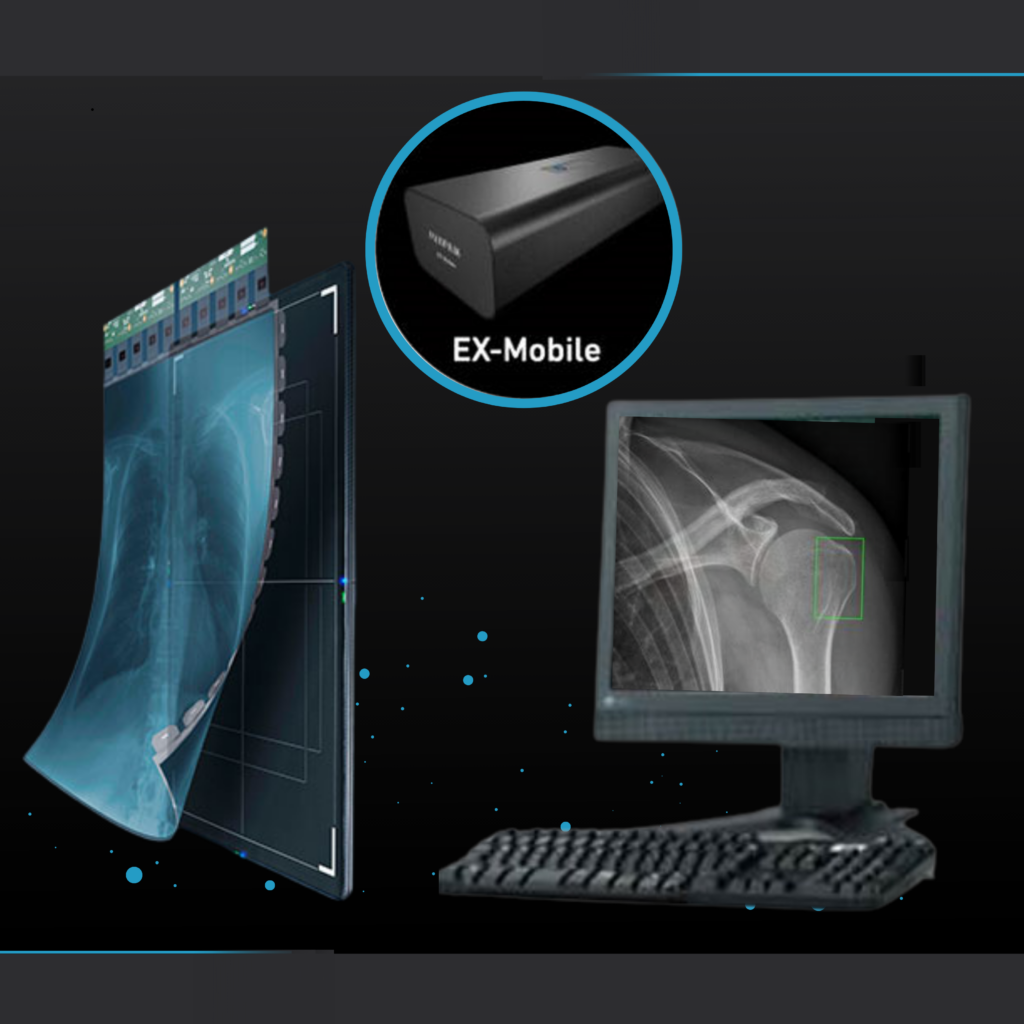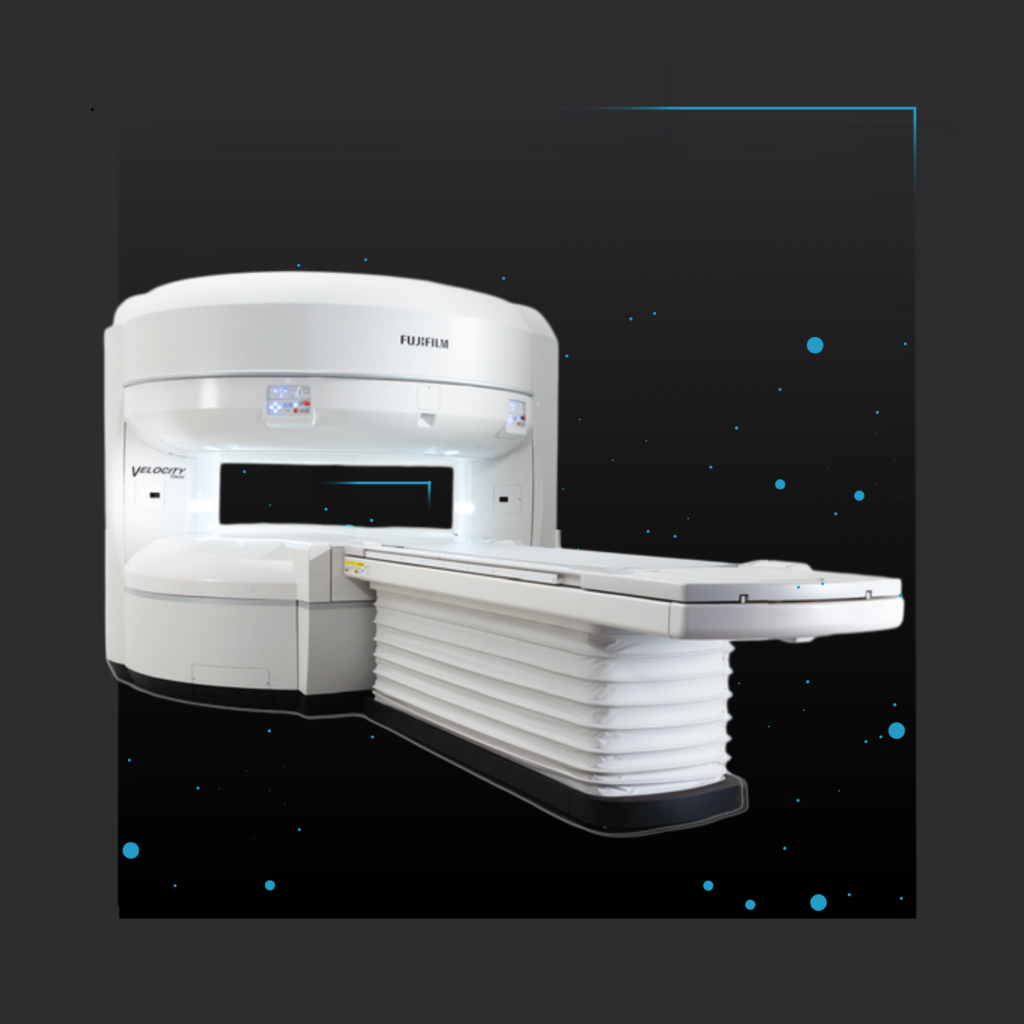 FIRST OPEN MRI IN EUROPE – OASIS VELOCITY™
Diagnostics, image quality, patient comfort and speed
Fast exams, high-quality imaging and a smooth workflow. The OASIS Velocity™ 1.2T Open MRI scanner has it all. Setting the benchmark for open, whole-body MRIs. The OASIS Velocity MRI scanner adds therapy and biopsy to your demanding MR diagnostics portfolio, increasing your productivity and significantly expanding your catchment area.
SynergyDrive™ Automation Suite workflow ensures efficiency to deliver the fastest patient throughput, maximum patient comfort and the highest image quality.
Patient-centric design and comfort; patient images can be taken on an 83cm wide table (maximum load of 660kg).
Open design allows patients an unrestricted view, designed especially for patients with claustrophobia or parents accompanying children.
GLEAMER technology not applied on MRI
OUR MOST RESILIENT DETECTOR
Meet the FDR-D-EVO III™, our new glass-free substrate digital X-ray detector, built for modern-day demands
We are proud to present the lightest and the world's first glass-free DR X-ray detector with Fujifilm's patented ISS detector technology3.
All of this results in improved durability to protect against damage if the detector is dropped. The lightweight nature of the detector provides optimum handling, whilst not compromising on high-resolution images, even at a lower dose.
Lightweight, glass-free and extremely robust detector with higher DQE.
Stable shell design with optimised shape for improved patient comfort.
Dynamic Visualisation, Virtual Grid and SmartSwitch.
Fast Charging function with multi-level battery indicator.
Antibacterial coating.
Water and dust resistant housing (IP56)
Docking stand for registration, storage and charging.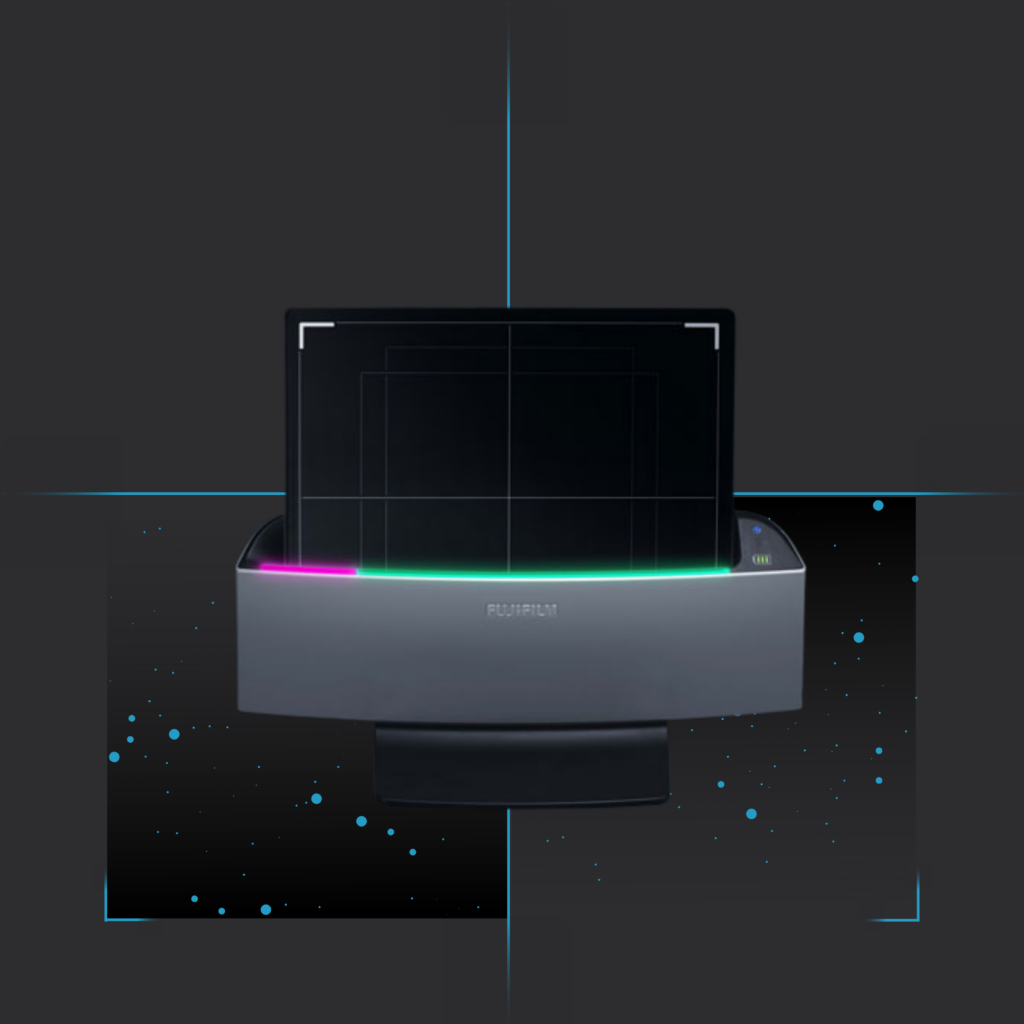 Fujifilm's Orthopaedics solution: Resources Area
2Duron L, Ducarouge A, Gillibert A, Lainé J. Assessment of an AI Aid in Detection of Adult Appendicular Skeletal Fractures by Emergency Physicians and Radiologists: A Multicenter Cross-sectional Diagnostic Study. Radiology 2021; 000:1-10
3The FDR D-EVO III is currently the world's first glass-free and world's lightest DR detector based on the standard 14×17" size.