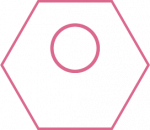 Women's Health
Deepen the knowledge of the mammography AMULET Innovality: select your course and take your mammography skills to the next level.
Breast Imaging Education program empowers healthcare professionals to discover highly solutions for specialists and applications and experience new content, case study, and training sessions. Our commitment to Women's health is in everything we do, from providing educational programs to ensuring a comfortable and safe mammography procedure. Our interactive and dynamic courses are offered and presented by distinguished clinicians from around Europe, introducing best practices utilizing the latest technologies and tools for breast screening and diagnostic use. *The Harmony artwork used on the above banner has been designed by Émilie Cardinale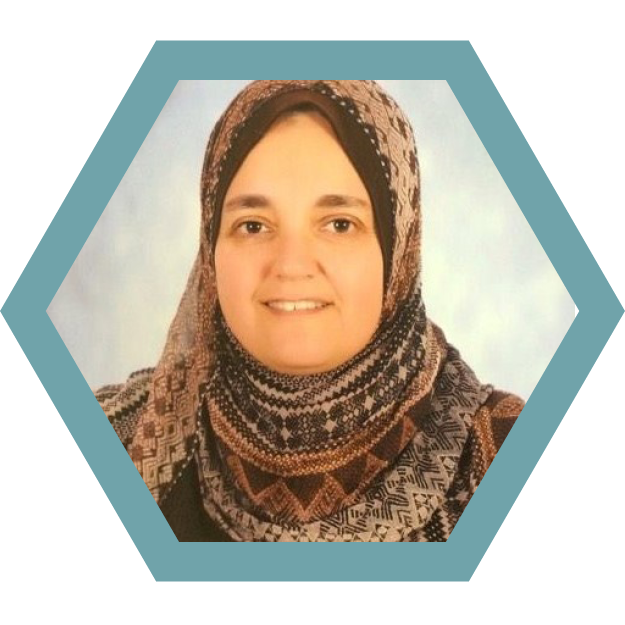 Part 4 ESDM Cases discussion
This lecture is an interactive session.We will present cases to demonstrate the presentation of the different histopathological types, molecular subtypes and grades of breast cancer on ESDM.
Women's health conditions can be complex. Our ultrasound solutions are here to make life easier.
During a lifetime, women need access to various screening options to protect their health. Specific screening, diagnosis and treatment options range from pregnancy check-ups of maternal and fetal wellbeing, to oncological care of organs like the uterus, ovaries and breast. Which is why we created, and continue to create, tailored ultrasound technologies that tackle these challenges in obstetrics and gynaecology. So what can we do for you – and your patients?
Detect pathologies with our superior ultrasound image quality.
Get quick and consistent measurements for both routine and complex cases with AI-supported automatisation.
Identify congenital heart diseases earlier with our highly specialised fetal heart package.
Assess fetal anatomy, blood flow or internal organs with our lifelike 3D/4D imaging.
Analyse 3D/4D data, or perform elastography or fusion imaging with MRI and CT using other advanced applications.
Our ultrasound solutions care for women throughout all stages of life. So you can treat them more effectively every step of the way.
Many factors contribute to a successful pregnancy exam with ultrasound: high image quality, the right transducer, clear colour visualizations, reliable measurements, and advanced imaging modes. We offer all of this, and more, in a wide range of solutions for university hospitals as well as small practices.
The combination of our image processing, probe technology and superior image optimisations permit to capture the subtlest of signals. You get crystal-clear, sharp B-mode images in high resolution. So you can be confident in assessing fetal well-being, and explaining the exam to the new parents.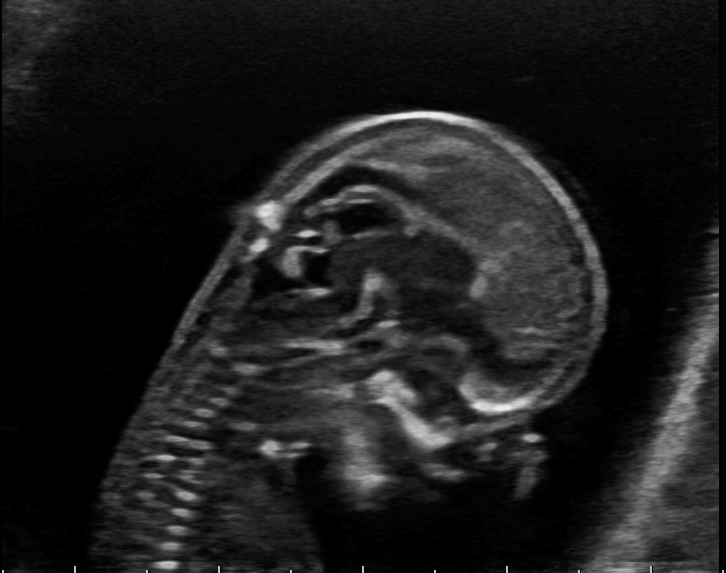 Now you can see vessels you've never been able to spot before with our high resolution eFLOW and new DFI imaging. They drastically improve visualisation of very slow vessels, as well as highly dynamic blood flows. Conventional colour modes are prone to motion artefacts, resulting in noisy images. DFI removes these artefacts from the actual blood flow – delivering highly detailed, clear and accurate information on blood perfusion.
Take your flow imaging to the next level with our Glossy mode. It adds a reflection effect to blood flow, creating a 3D-like image with vivid highlights. This improves visibility and simplifies your understanding of the structural anatomy, the flow patterns and the positional relationship of vessels.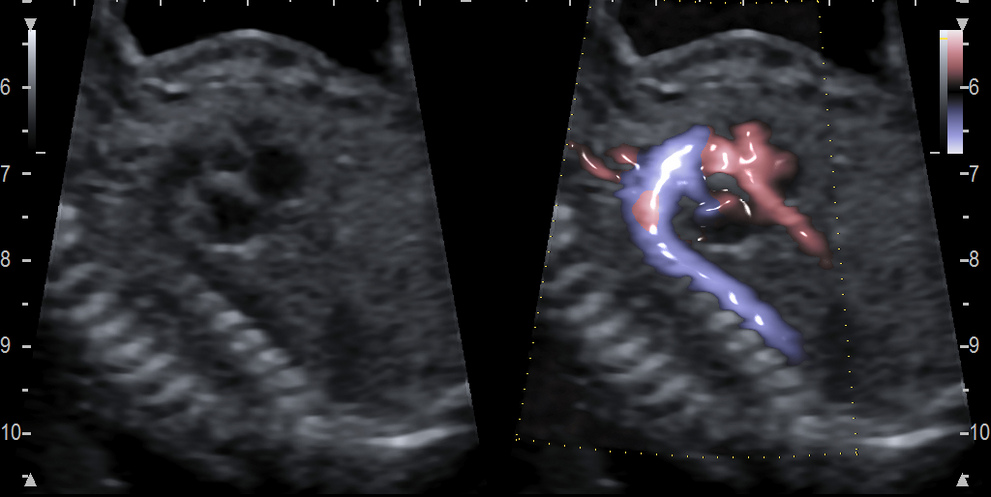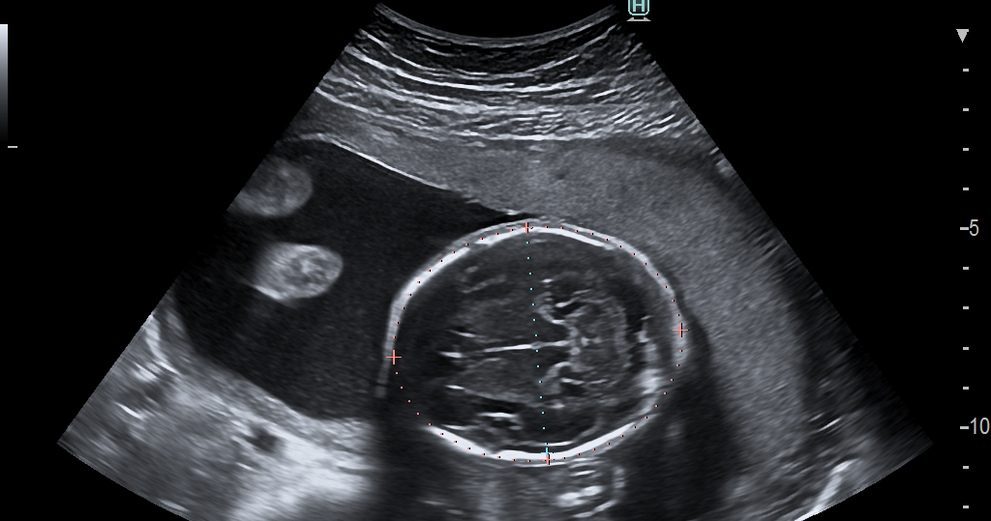 Your data is just one click away with our AI-based automatic measurements for fetal biometry and the estimated fetal weight. What's more you can calculate the nuchal translucency, fetal heart rate and fractional shortening – all automatically.  So when it comes to speeding up your exams, increasing accuracy and reducing your own stress… just let the system take the strain.
Fusion imaging to dive deeper into complex pathologies for fetal brain or placenta
RVS allows the real-time combination of existing MRI data with ultrasound B-mode, Doppler and elastography images. You benefit from the diagnostic power of both modalities simultaneously – for example, in fusion studies for complete or partial agenesis of the corpus callosum, posterior fossa anomalies or placenta accreta. By complementing your earlier MRI findings with ultrasound, we'll help you verify doubtful anatomical structures.
Our ultrasound probes are lightweight and ergonomically designed in various formats: convex, linear or transvaginal. Single crystal technology give you cutting-edge images. A special highlight is our innovative CMUT linear probe – incorporating highest resolution, penetration and a superwide frequency bandwidth with newest ultrasound technology. Use it to perform fetal screening from early gestation right through to the later stages of pregnancy.
Add important clinical information to your ultrasound image with our empowered 3D/4D package; while your patients enjoy photo-realistic images that help them bond with their unborn child.
A thorough outer assessment of the fetal face and body is vital for detecting anomalies like cleft lips, skull deformation, club feet or polydactyily. Adding 3D depth with shadows, highlights and liquid effects can improve the visibility of even the smallest anomalies – which might be difficult to assess in 2D only. You can adapt light sources and effects to study areas from different perspectives.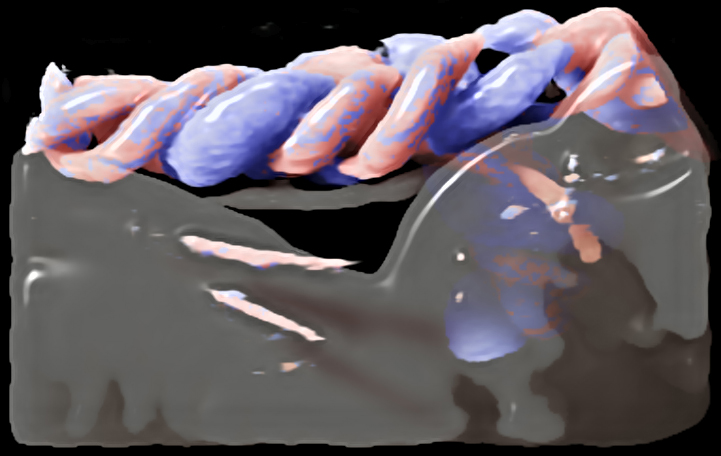 Visualise blood flows in 3D for greater detail and better understanding of positional relations
You can now evaluate vascular information with Colour Doppler, Power Doppler or eFLOW in a 3D/4D display for greater detail – boosting your understanding of the structural anatomy and positional relationship of the great vessels in fetal heart, small brain vessels or the umbilical cord. Observe also the adnexa or pulmonary vein clearly, and rest assured to see what you need to see.
Apply translucence on your ultrasound image to see into the developing internal anatomy. You can observe organ boundaries, vessel walls, brain cavities or gastrointestinal anatomy early in the pregnancy. Even liquid structures or early brain anatomy of an embryo can be made visible – for an accurate assessment of fetal well-being from the very beginning.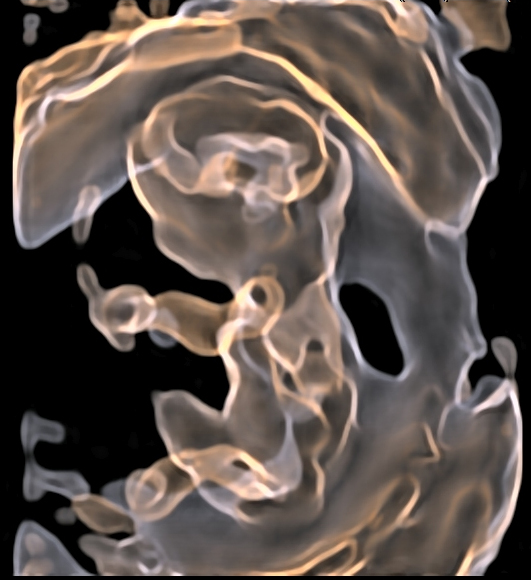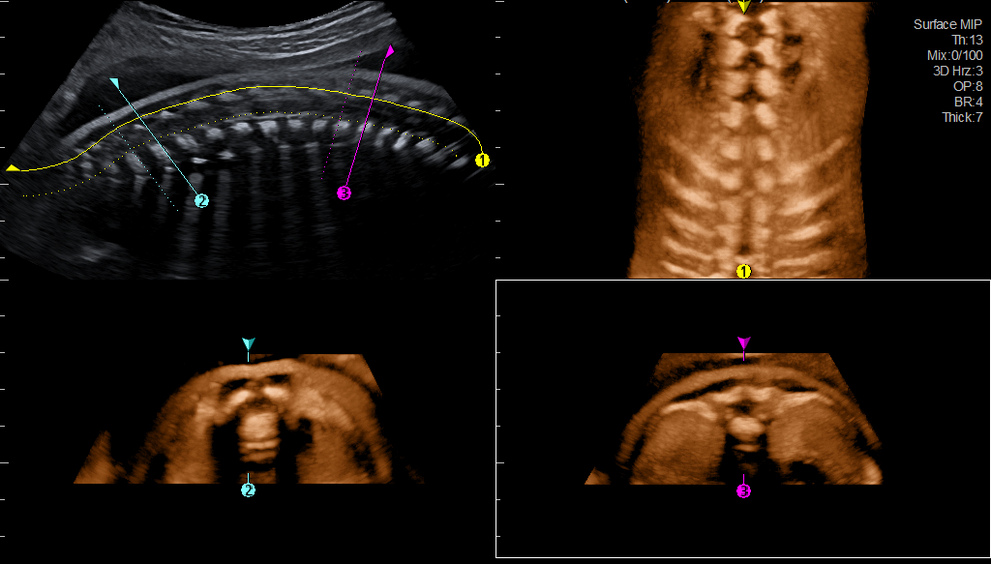 Neural tube defects, an open spina bifida or a partly missing corpus callosum are common central nervous system (CNS) malformations. Yet, ultrasound examinations of such curved structures need high ultrasound expertise. Our CMPR mode makes it easier: you can render a 3D image of curved anatomies and obtain any plane from it by simply drawing a line. This will help you with the assessment of fetal brain and spine, as recommended by ISUOG.
Congenital heart disease (CHD) in infants is a challenging issue, with structural cardiac anomalies often missed by prenatal ultrasound. To help improve detection rate, we offer a sophisticated fetal heart imaging package that goes beyond routine screening. It gives you clear visibility and the valuable insights you need to make informed decisions for a better patient outcome.
Observe blood flows in greater detail with 3D-like Glossy mode
Our highly sensitive Colour Doppler, Power Doppler, eFLOW or DFI modes deliver crystal-clear visualisations of large and small vessels in the fetal heart. And by adding our new 3D-like Glossy mode, you can further simplify your understanding of both the structural anatomy and the positional relationship of the great vessels inside the heart. In fact,  you can capture even the tiniest vessel signals – and detect pathologies like septal defect or stenosis.
Get advanced quantitative measurements of the cardiac wall movement with our 2DTT speckle tracking technology. You can assess various parameters for strain, volume and thickness, including: global longitudinal strain (GLS) and strain rate; cardiac size and shape; myocardial contractility; torsion or displacement; and wall thickening.
Ease the challenge of fetal heart scanning by studying the data offline – in any arbitrary section, and in multiple slices of the images obtained with STIC. By using 3D and 3D colour to evaluate the position of the arteries, aortic arch, or pattern of the aorta, you're less likely to miss any defects. And if you do detect an abnormality, you can study its structure in detail using the same data.
Assess the E/e' index to see if fetal myocardial functionality matures as expected; and compare flows in real time to diagnose fetal arrhythmia. Our Dual Gate Doppler measures in two different locations during the same heartbeat – and can display two vessels in the same image. It's easy to operate and delivers reliable results.
Employ Doppler measurements to cardiac muscle walls instead of blood flow with TDI. You can get a deeper insight into the cardiac cycle with comprehensive information like velocity, displacement or deformation; and you can analyse the data – under the aspect of synchronicity for example – also at an offline workstation.
Save time, reduce operator dependency and get real-time, reliable information by benefitting from latest technologies. For example, you can monitor the fetal heart rate with one single click on the B-mode image in real time. Or speed up your functional assessment through an automatic measurement of fractional shortening.
Ultrasound is a quick and easy way to check the female pelvis organs for any suspicious signs. To help you improve detection rate and patient outcome, we offer high-quality imaging tailored to your specific challenges.
Use 3D imaging to improve visualisation of the uterus and ovarian anatomy
Add 3D depth to your imaging, including shadows, highlights, glossy effects or translucency – and improve the visibility of organs and structures. You can look at them in the coronal plane, which isn't possible with 2D sonography. Understanding the uterine cavities and anatomy or ovarian structures becomes an easy task. For further investigation, you can always evaluate the data offline at a later stage.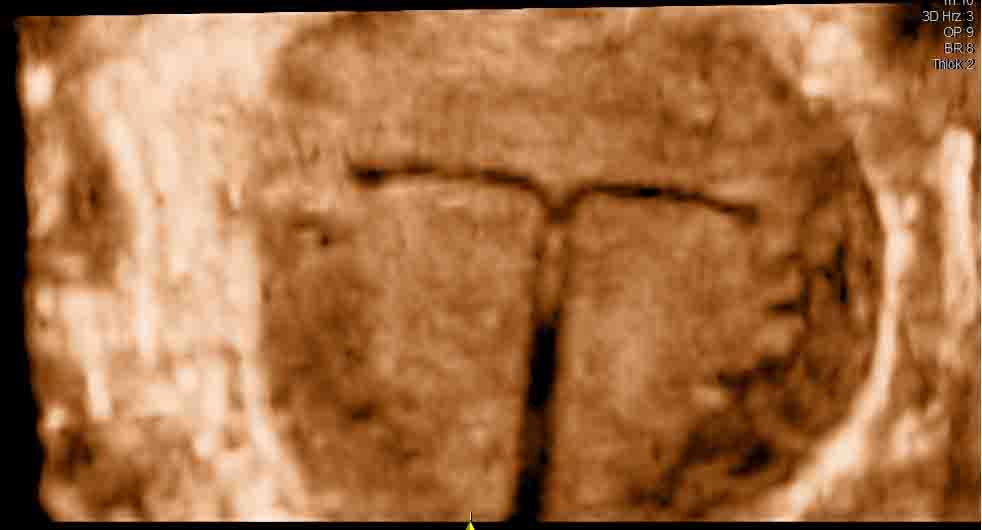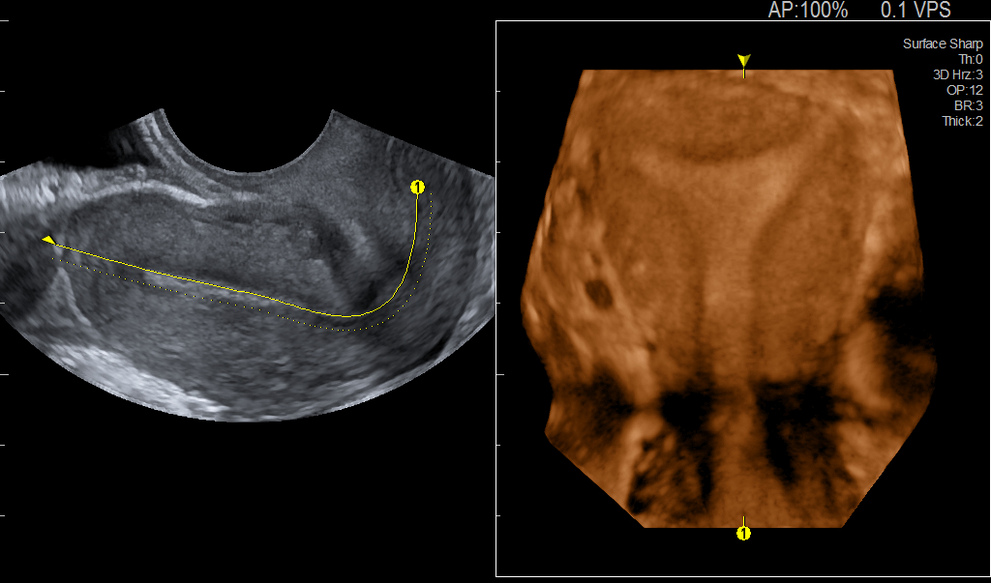 Curved anatomical structures need high ultrasound expertise to get the full picture. Which is why we've designed the CMPR mode. You can display a 3D coronal image of curved anatomies and obtain the right plane by simply drawing lines – improving your qualitative and quantitative evaluation of the uterus and other organs.
Get clear images of the ovaries, endometrial lining, uterus or fallopian tubes – even in zoom mode – with our slim, 200° field of view transducer. It gives you the optimal conditions for guiding the biopsy needle during in-vitro fertilization. Continue to monitor their development and decide on the right timing when to trigger ovulation or perform an egg retrieval.
Ultrasound is a quick, easy and affordable tool for diagnosing and managing gynaecological conditions like ovary and cervical tumours, cysts, endometriosis or adenomyosis. Benefit from multiparametric imaging with our RVS, fusing real-time ultrasound with MRI, CT and PET data. You'll gain a deeper understanding of your patient's condition, while localising, classifying and performing biopsies with greater precision.
Every patient is different – and so are their soft tissue breast, underarm and lymph node examinations. We know you need to make the most of every minute needed to screen your patients. To help you spot any suspicious signs quickly, we offer various ultrasound tools tailored to the needs of every woman.
With our premium image quality and Carving Imaging mode, you'll get  precise and sharp visualisations of the breast. Clear delineation of tissue structures will give you a better understanding of what you're dealing with. Meanwhile, the image stays realistic, without losing signs due to over-processing. You can detect shadows around lesions; see if it's fluid or solid; or confidently guide a cytology needle for biopsy.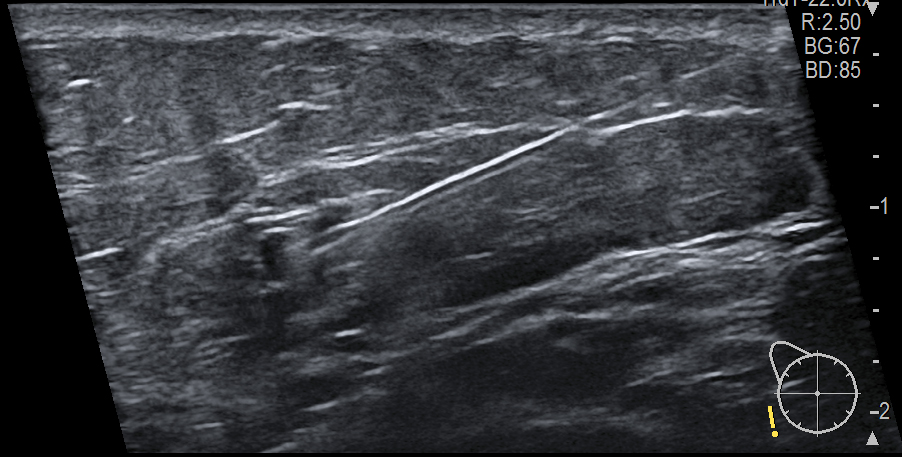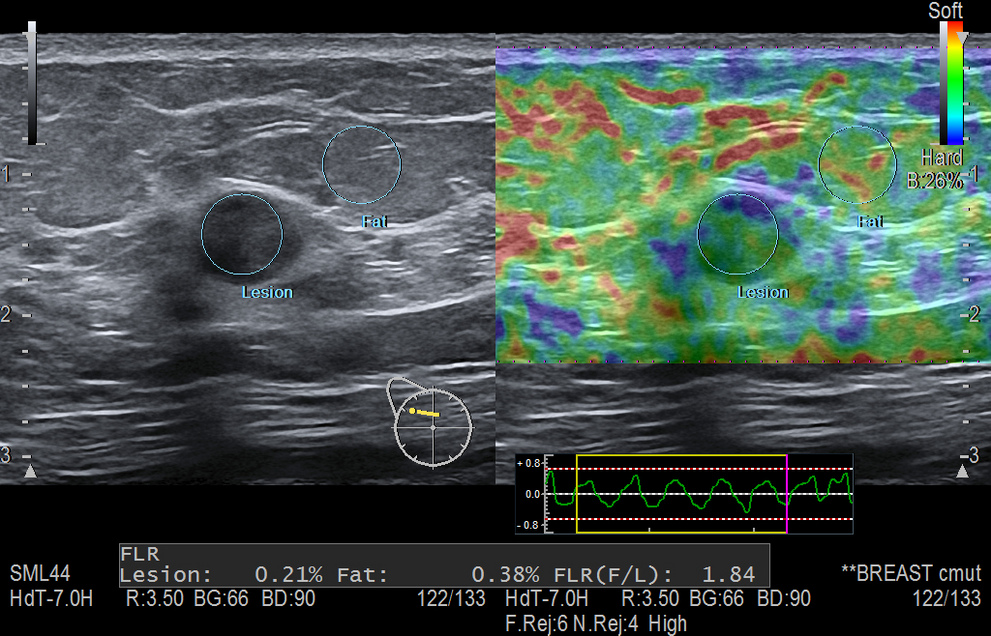 Understand tissue elasticity and differentiate between benign and malignant lesions on a colour map according to the Tsukuba or BI-RADS scale. The system automatically identifies the region of interest, and you can calculate strain ratio or fat and lesion ratio (FLR) with a single click. We were the first company to launch an elastography solution (back in 2003) – and we continue to improve this feature for the benefit of you and your patients.
Guide your treatment steps by assessing vascularity both inside and around suspicious areas – including the viewing of tiny and slow vessels with our eFLOW and DFI imaging mode. It will not only help you characterise the lesion, but also to plan a tissue sample biopsy without causing a haematoma (and the possible delay of the procedure). And to monitor flow patterns in more detail, you can apply Contrast Imaging – before, during or after treatment.
Compare your patient's MRI images with real-time ultrasound to get a complete, conclusive confirmation of the lesion location. You can plan preoperative markings or needle paths; increase precision in interventional procedures; and monitor treatment success after chemical therapy.
Save yourself the hassle of changing probes with our wideband CMUT. It helps you view the entire breast, from the skin to the pleura, ribs and thoracic wall in perfectly clear detail – regardless of its size, or the thickness and density of the mammary gland. Even difficult breasts (like  type IV density, post-operative or large volume) are easier to scan. CMUT will not only increase your level of precision and diagnostic understanding, but also save you time and costs by using just one probe for the whole examination.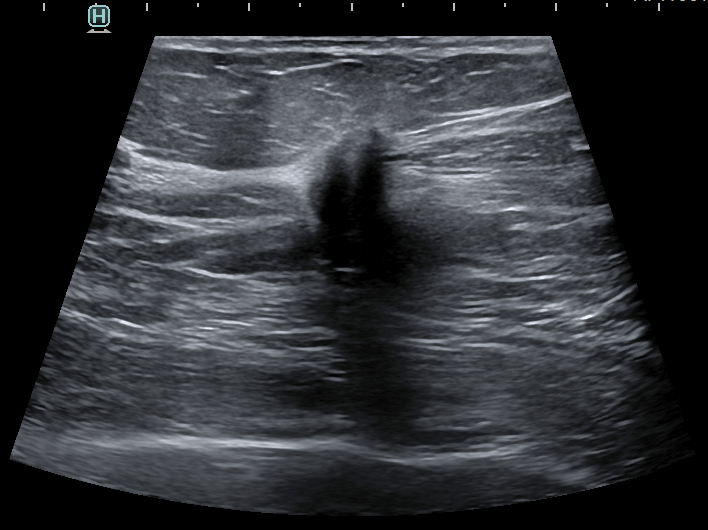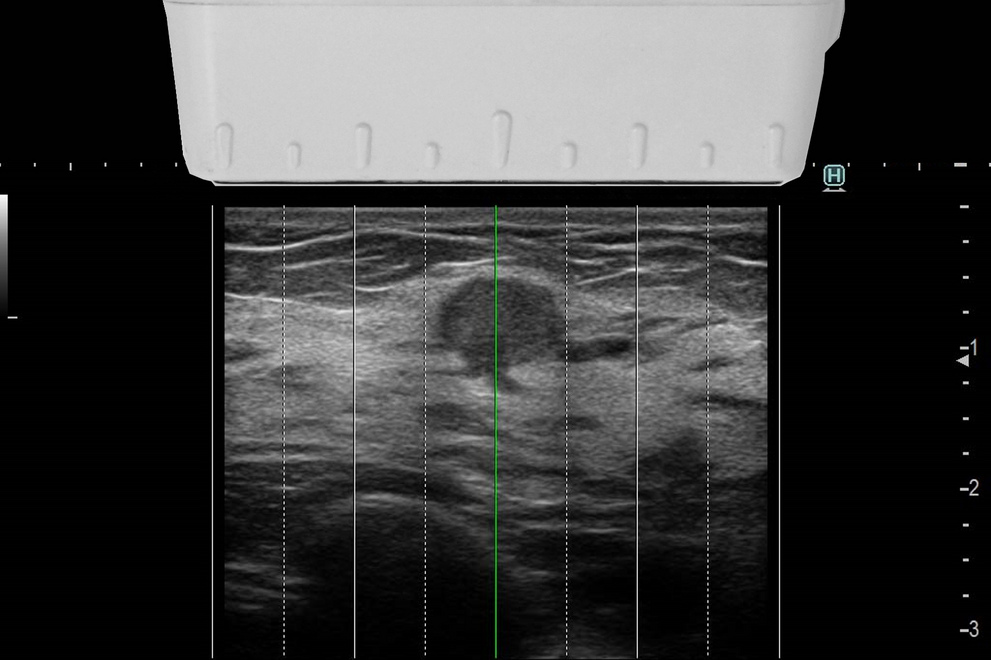 Thanks to physical markings on the transducer head, you can easily paint mark-ups onto the breast skin prior to a surgery or interventional procedure. This gives you a useful positional relation between the organ and the probe; while the corresponding lines are displayed on the B-mode image. All of which means that you'll know exactly where you are during image-guided biopsies and other procedures.
We know that no two clinics are the same. Your specific needs require a tailored solution: clinically, financially and ergonomically. Which is why we'll work with you to find the ideal fit for your facility – from entry-level to premium advanced technologies.
Whatever you need, our broad family of highly functional probes can deliver it – from 3D obstetrics and gynaecological imaging to transvaginal, convex or linear imaging. These very lightweight devices fit perfectly into your hand – for a day full of fatigue-free scanning.
VC35
3D Transabdominal 8 - 2 MHz 72° FOV 46mm Radius
C252
Convex Single Crystal for Fetal 6 - 1 MHz 50mm Radius 70° FOV
C253
Convex 5 - 1 MHz 70° FOV 50mm Radius
C35
Convex High Frequency 8 - 2 MHz 70° FOV 50mm Radius
SML44
CMUT Matrix Linear for vascular 22 - 2 MHz 38mm Width
L55
Linear 13 - 5 MHz 50mm Width
C41V1
Transvaginal 10 - 2 MHz 200° FOV 10mm Radius
VC41V
3D Transvaginal 8 - 2 MHz 145° FOV 10mm Radius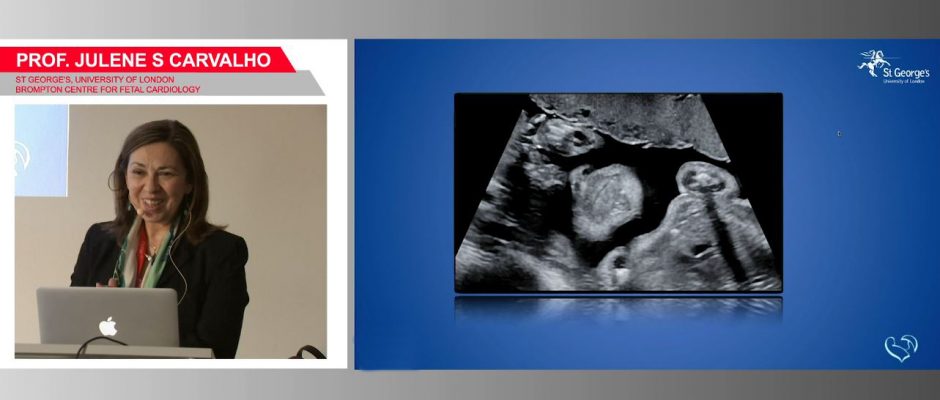 Lecture by Prof. Dr. Julene Carvalho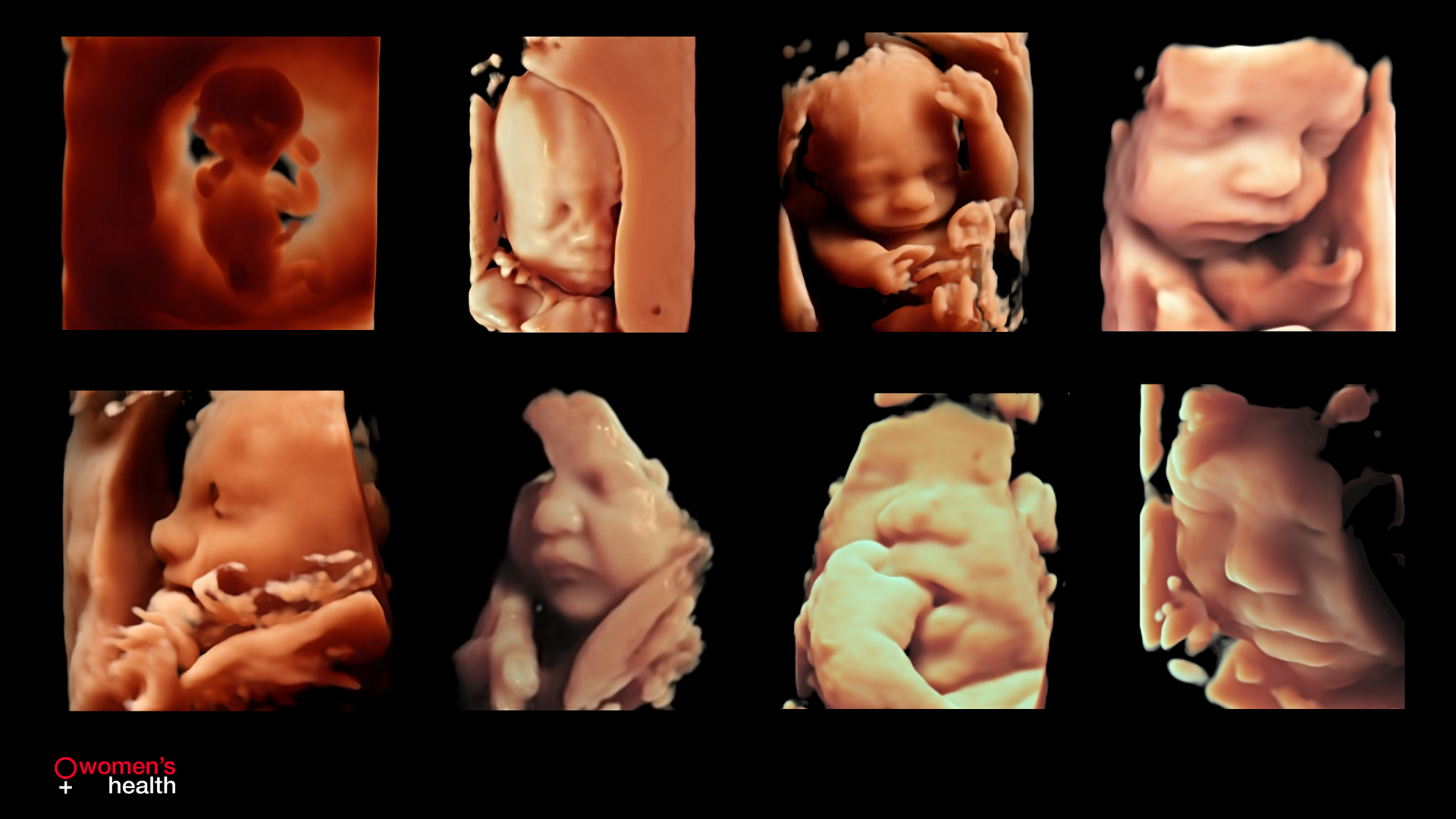 Detailed 3D/4D ultrasound visualizations from early to late pregnancy. We offer sophisticated tools like 4Dshading, Stagelights and Specular to create realistic images.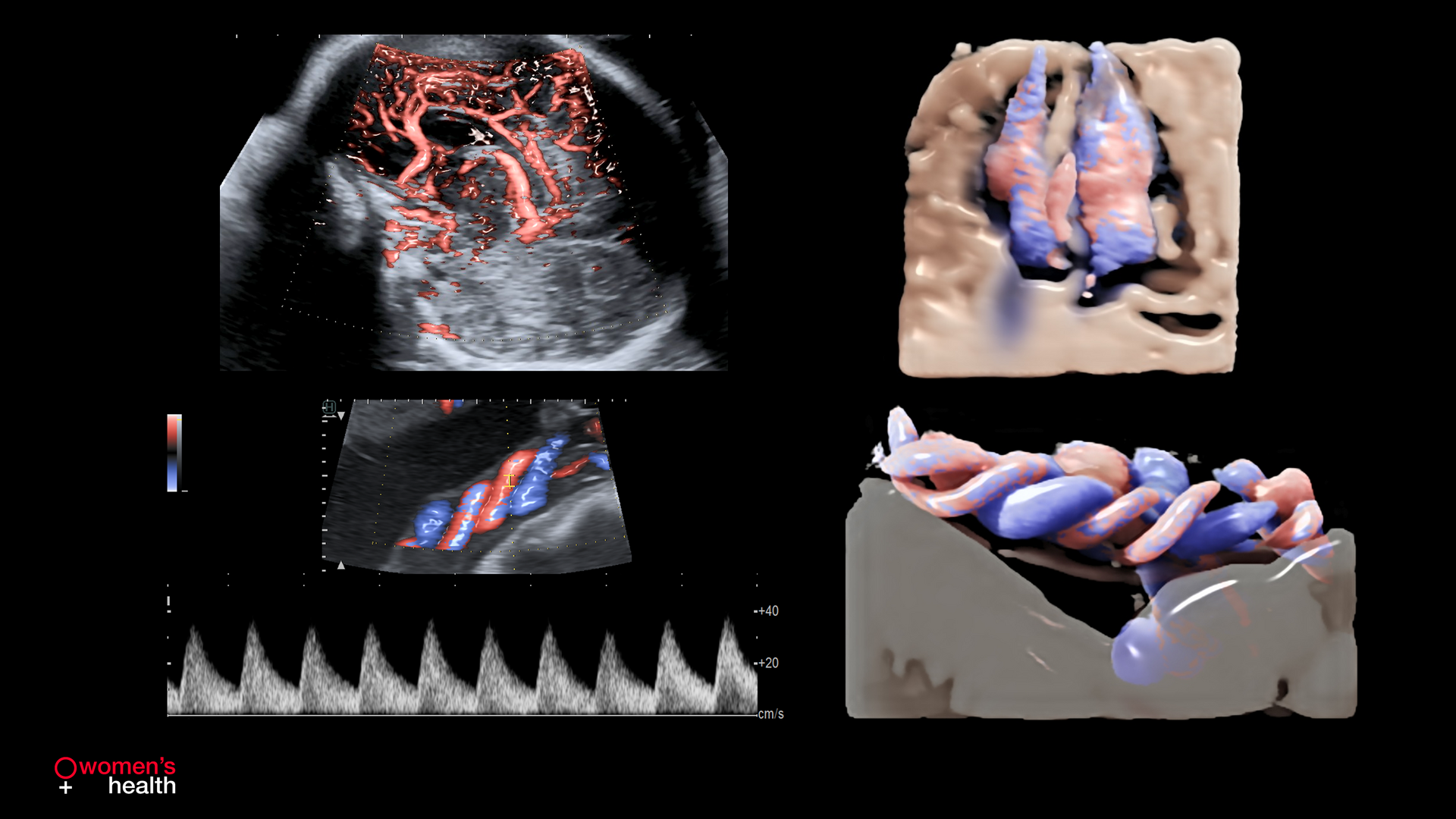 We offer various vascular imaging solutions to depict and assess vessels in great detail, like Flow, Power Flow, eFLOW, DFI, Glossy mode, Dual Gate Doppler and 4Dshading Flow.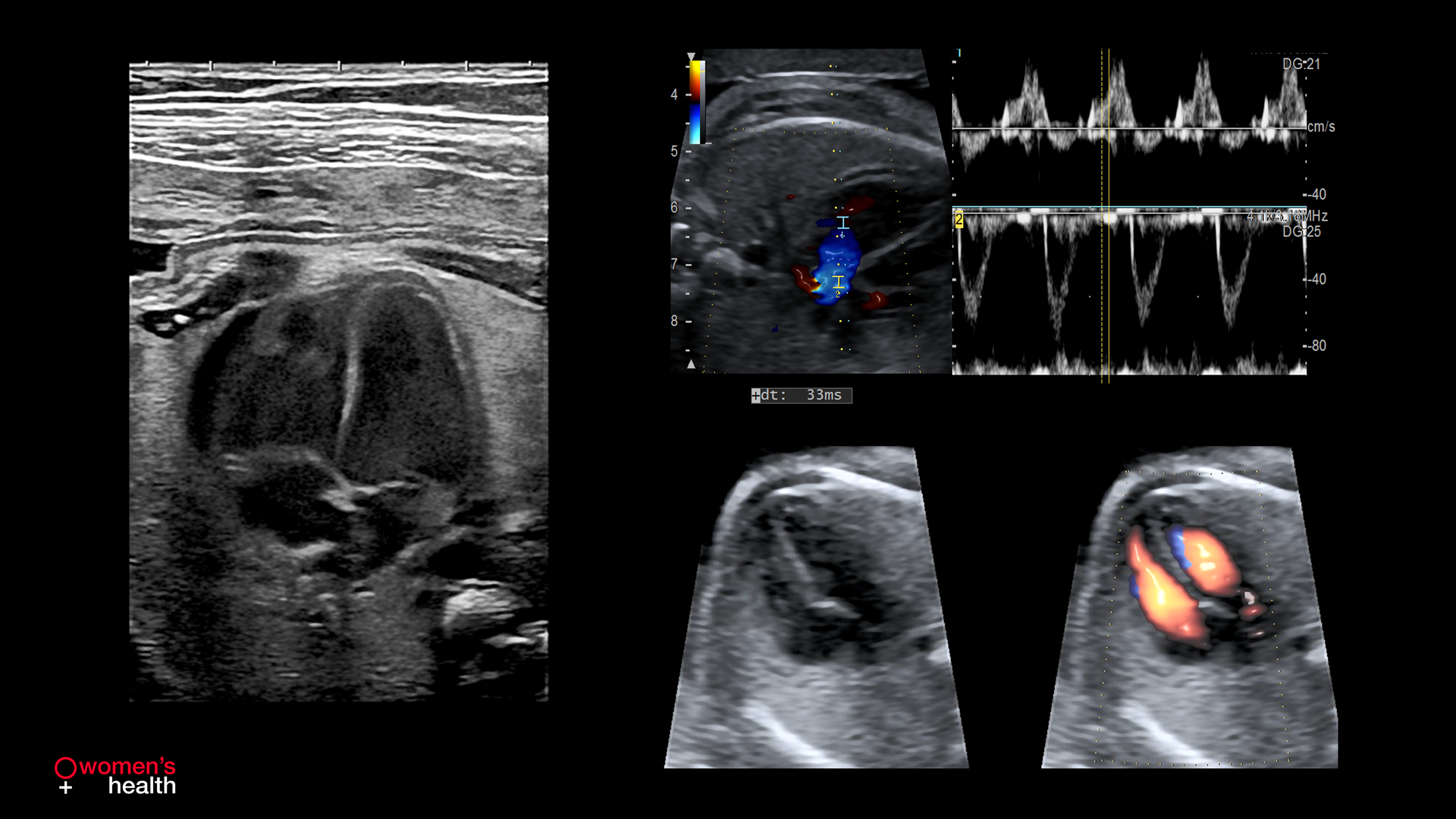 To help improve detection rate of CHD, we offer a sophisticated fetal heart imaging package that goes beyond routine screening, with high-resolution B-mode images, Glossy mode, Dual Gate Doppler, STIC or 4Dshading Flow.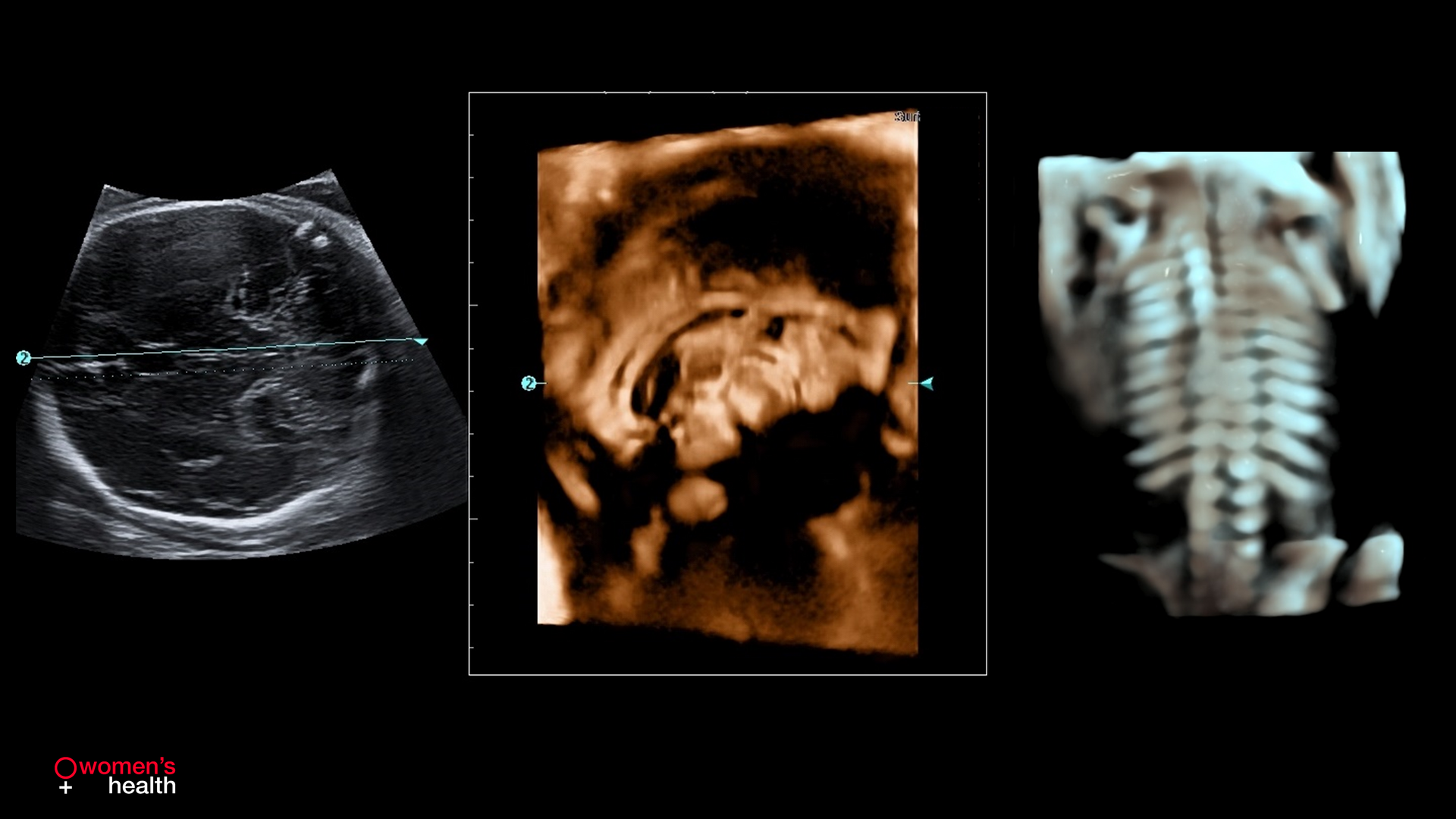 Clear ultrasound visualizations of the central nervous system (CNS) in high-resolution B-mode with dedicated tools to improve diagnostic confidence, such as CMPR and 3D/4D renderings.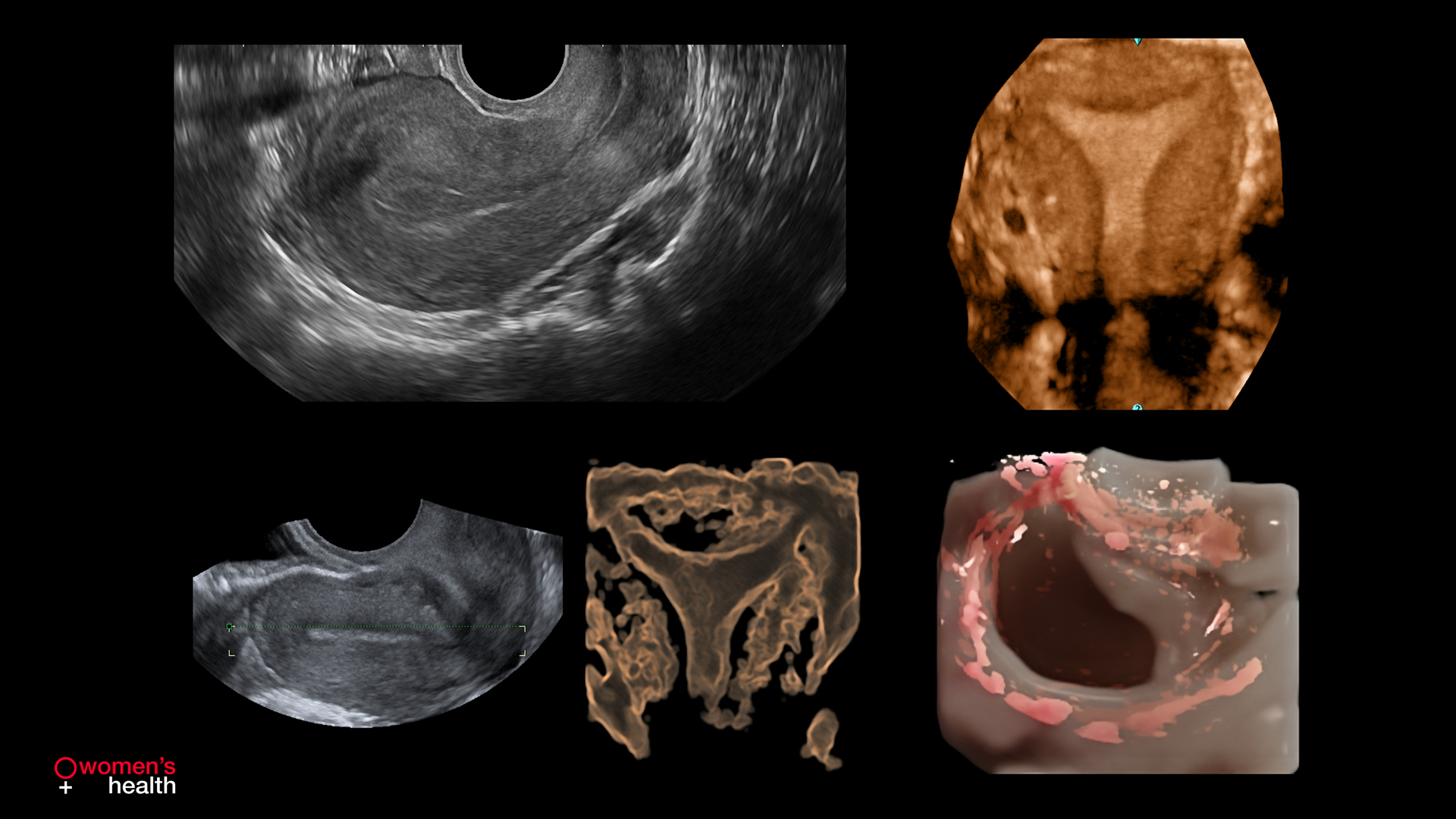 Ultrasound of uterus and ovary using high resolution B-mode, 4Dshading or CMPR to see it in the curved coronal view for detailed assessment.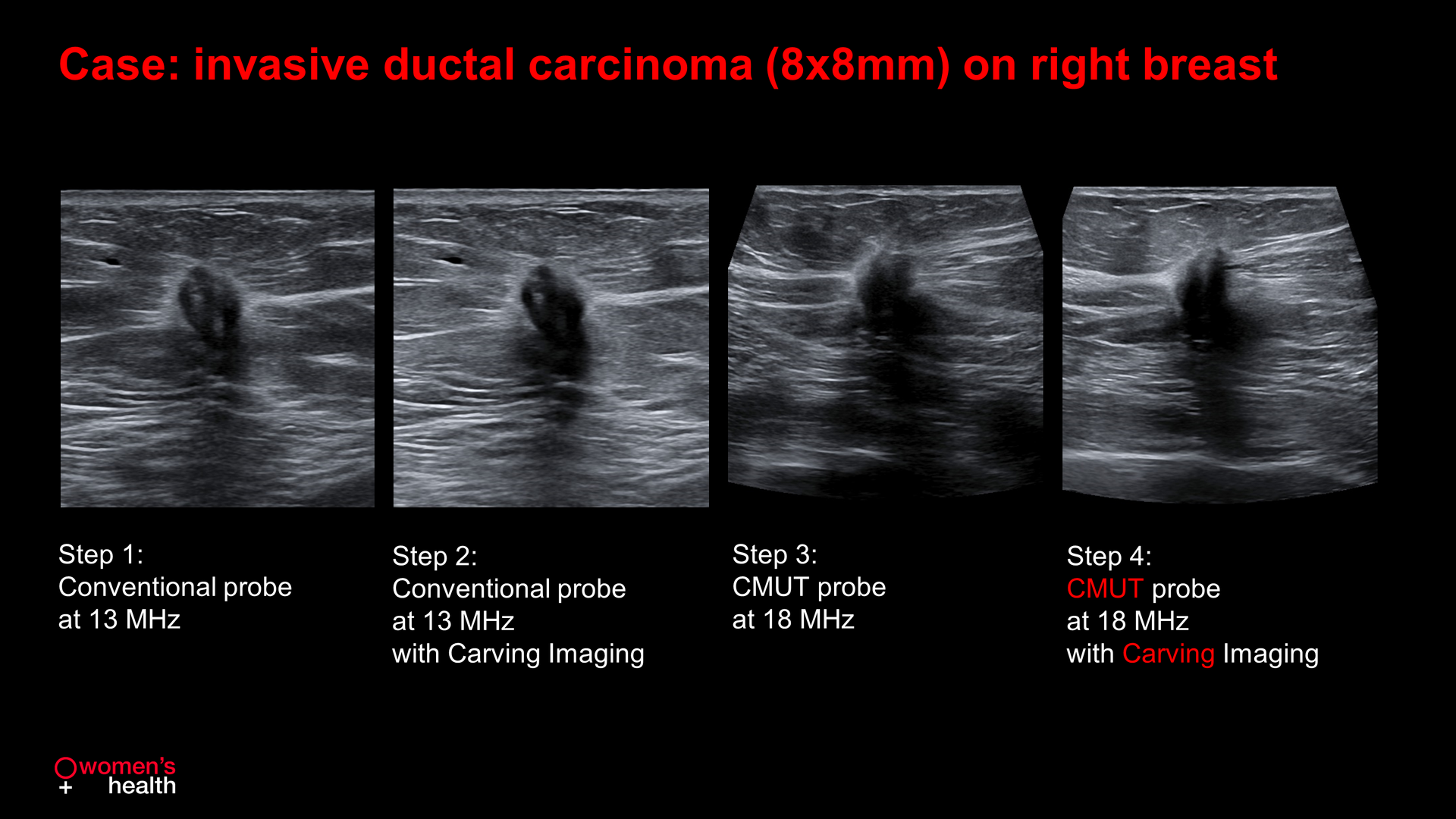 Comparison of conventional ultrasound probe and CMUT with and without Carving Imaging. CMUT shows deeper structures, while Carving Imaging enhances the lesion boundaries. You can see tissue structures from skin to pectoralis muscle clearly.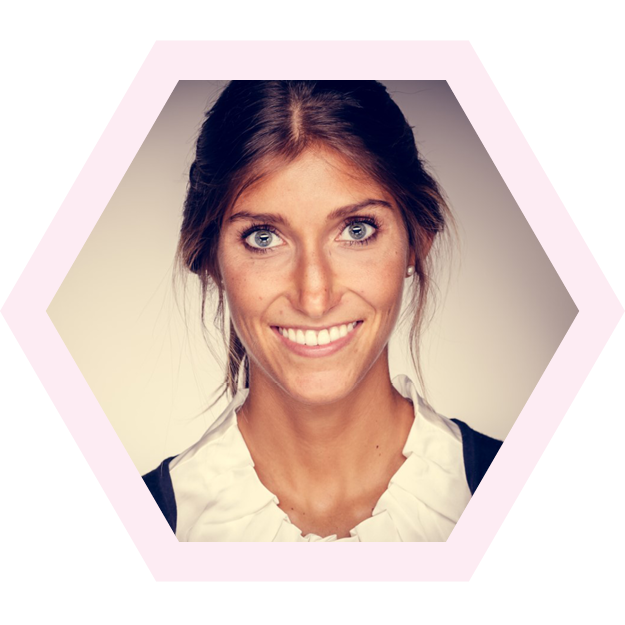 Dr. Caroline Behr
Department of Diagnostic and Interventional Radiologie and Neuroradiology, Maria Hilf Hospital, Moenchengladbach, GERMANY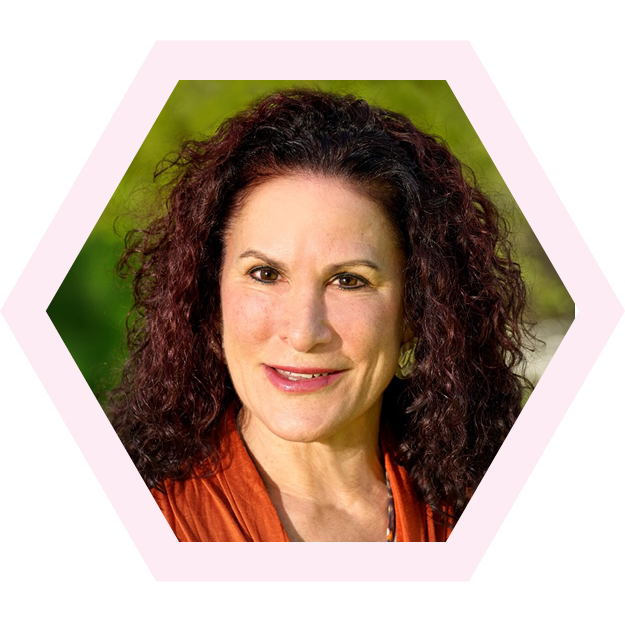 Prof. Laurie Fajardo
Prof. of Radiology, Department of Radiology at University of Utah School of Medicine, USA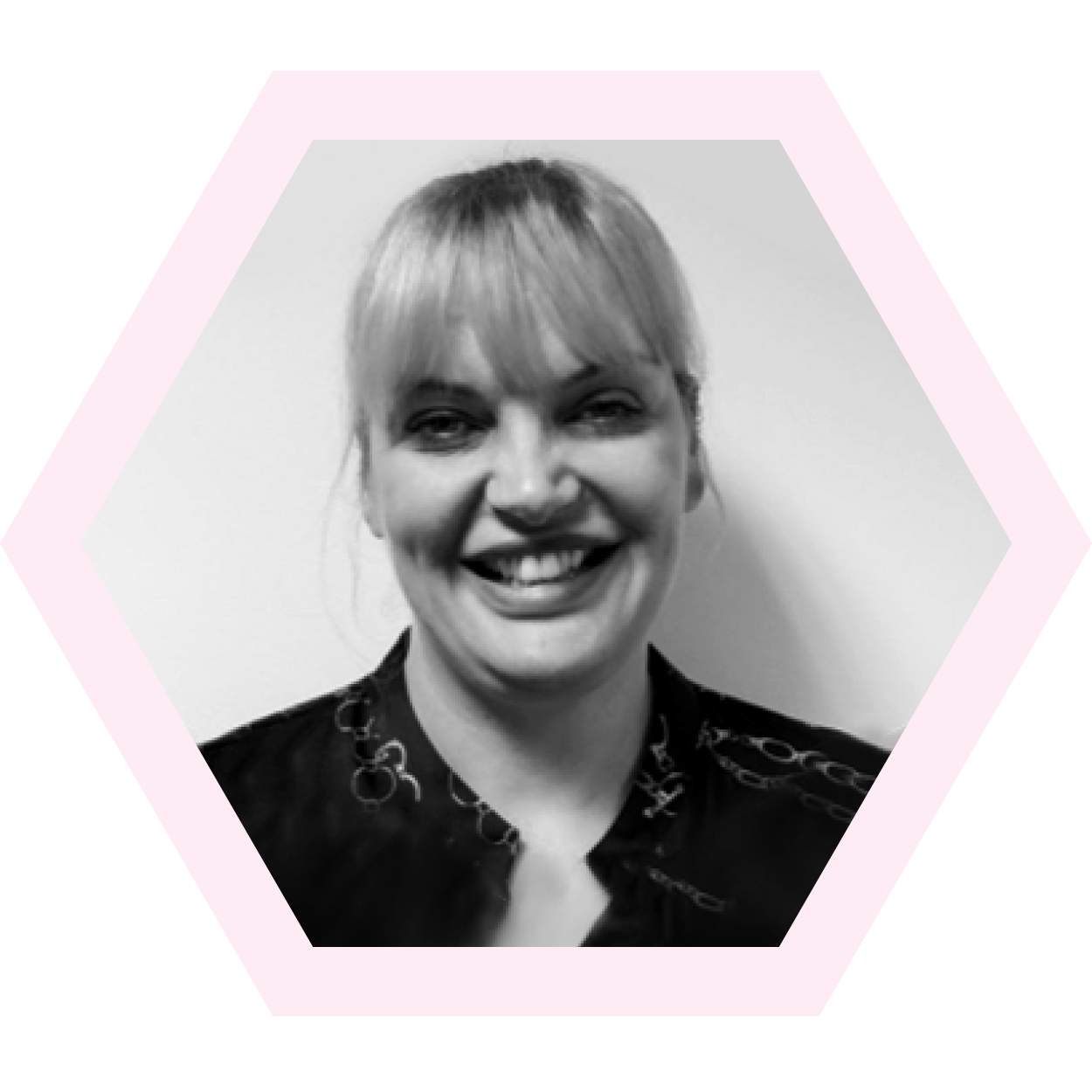 Sally Cope
FUJIFILM UK Ltd., United Kingdom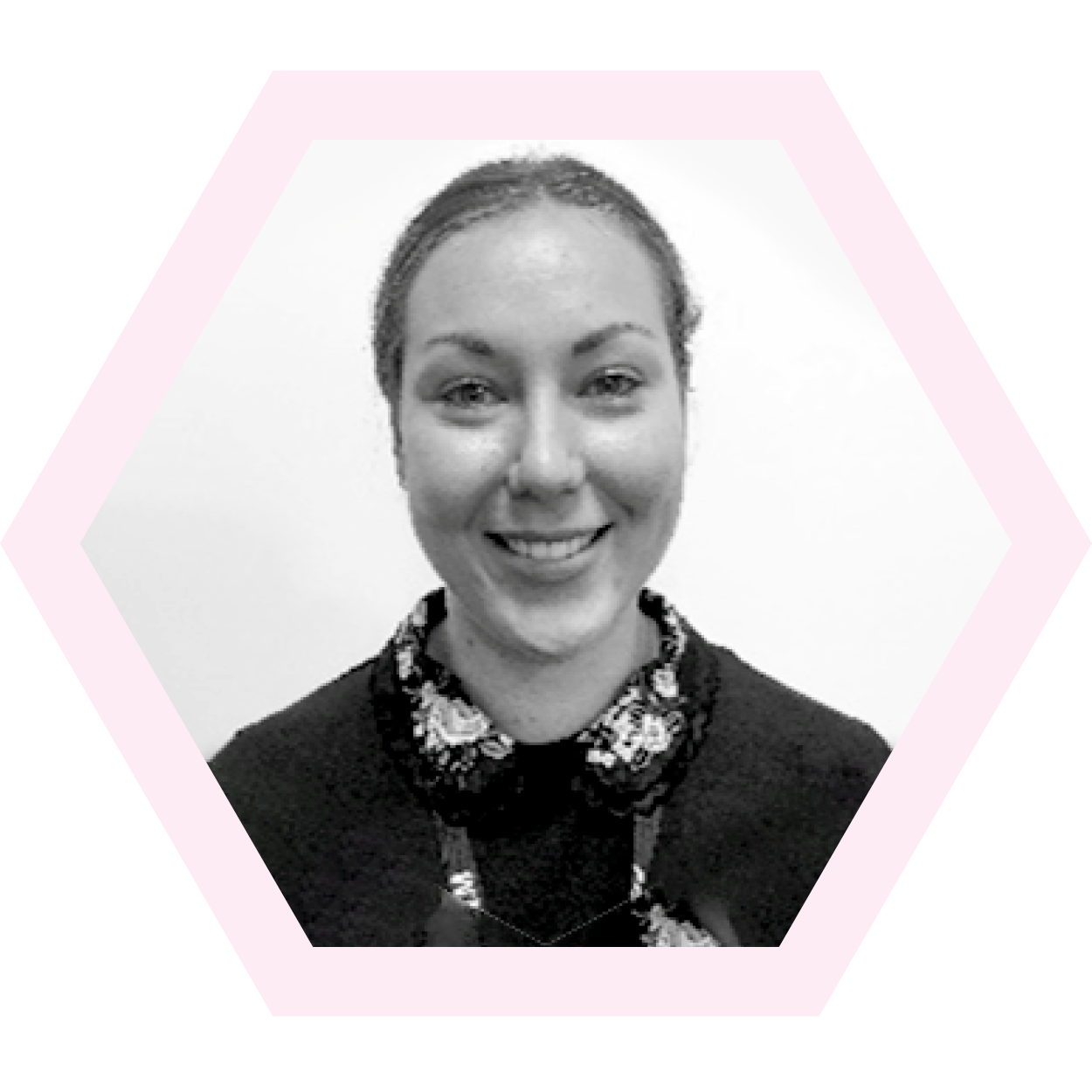 Jill Vickory
FUJIFILM UK Ltd., United Kingdom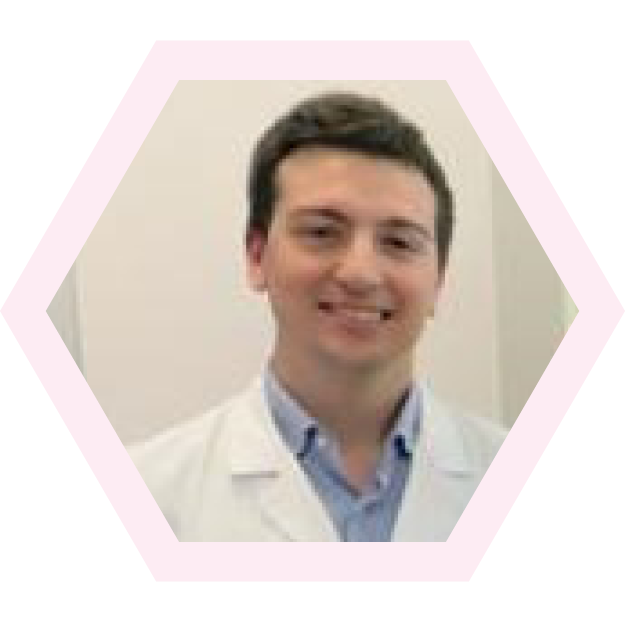 Dr. Federico Zamboni
IRCCS Ospedale Sacro Cuore Don Calabria, Italy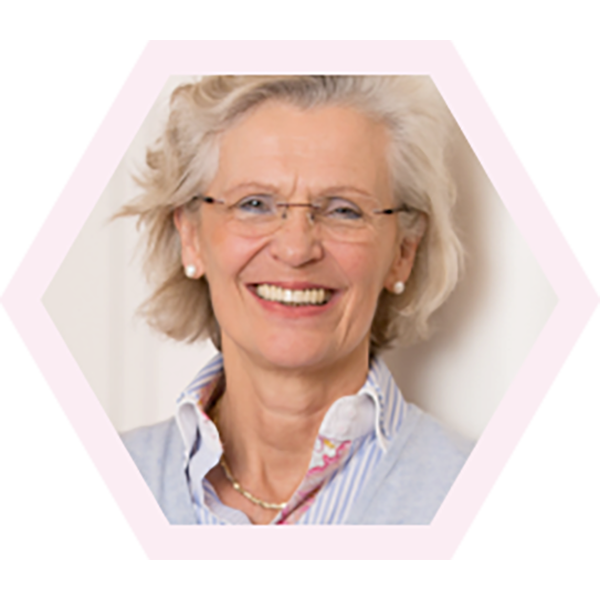 Dr. Mechthild Schulze-Hagen
Drs. Schulze-Hagen, Dr. Groening & Dr. Syrée Group Practice for Gynaecology, Germany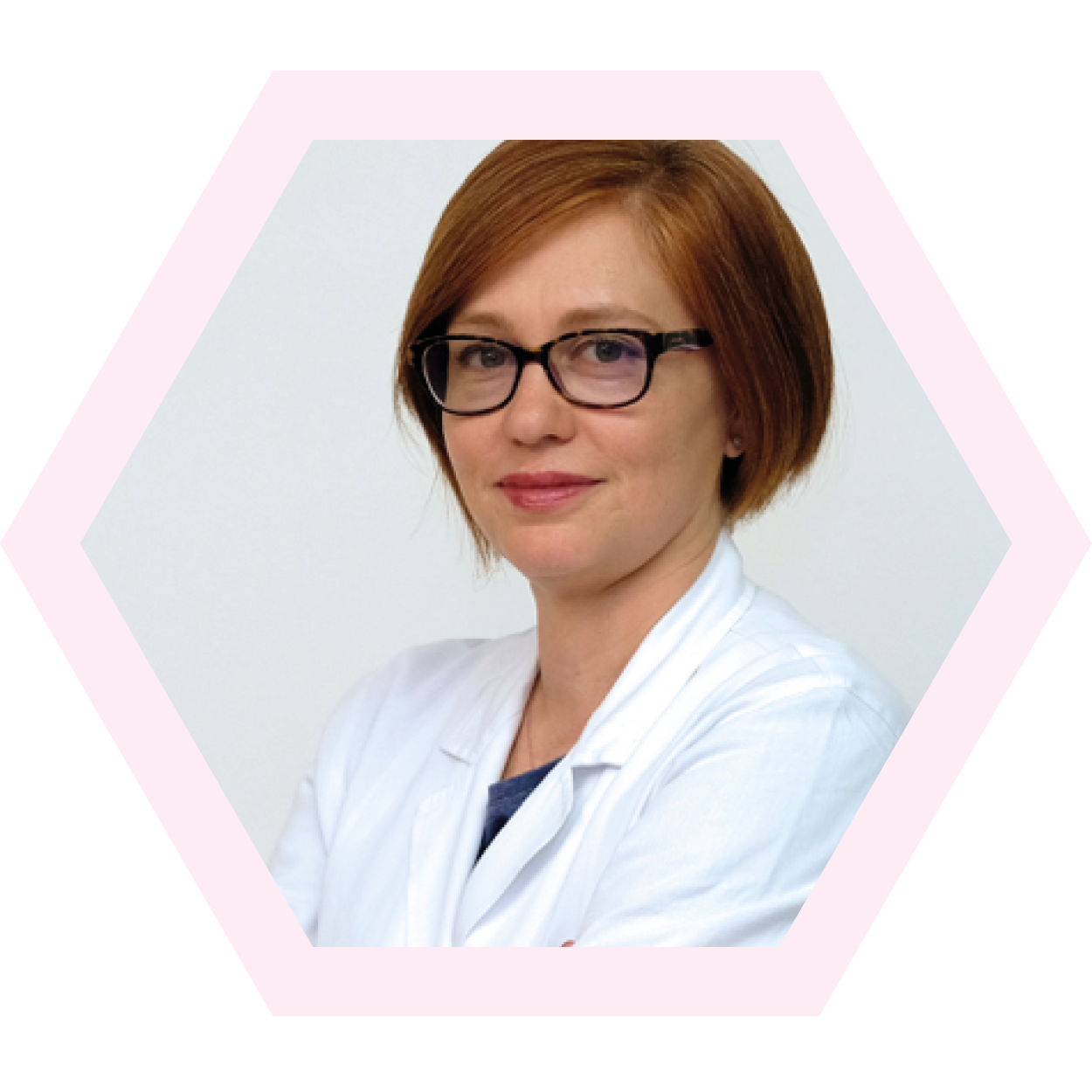 Dr. Anna Russo
IRCCS Ospedale Sacro Cuore Don Calabria, Italy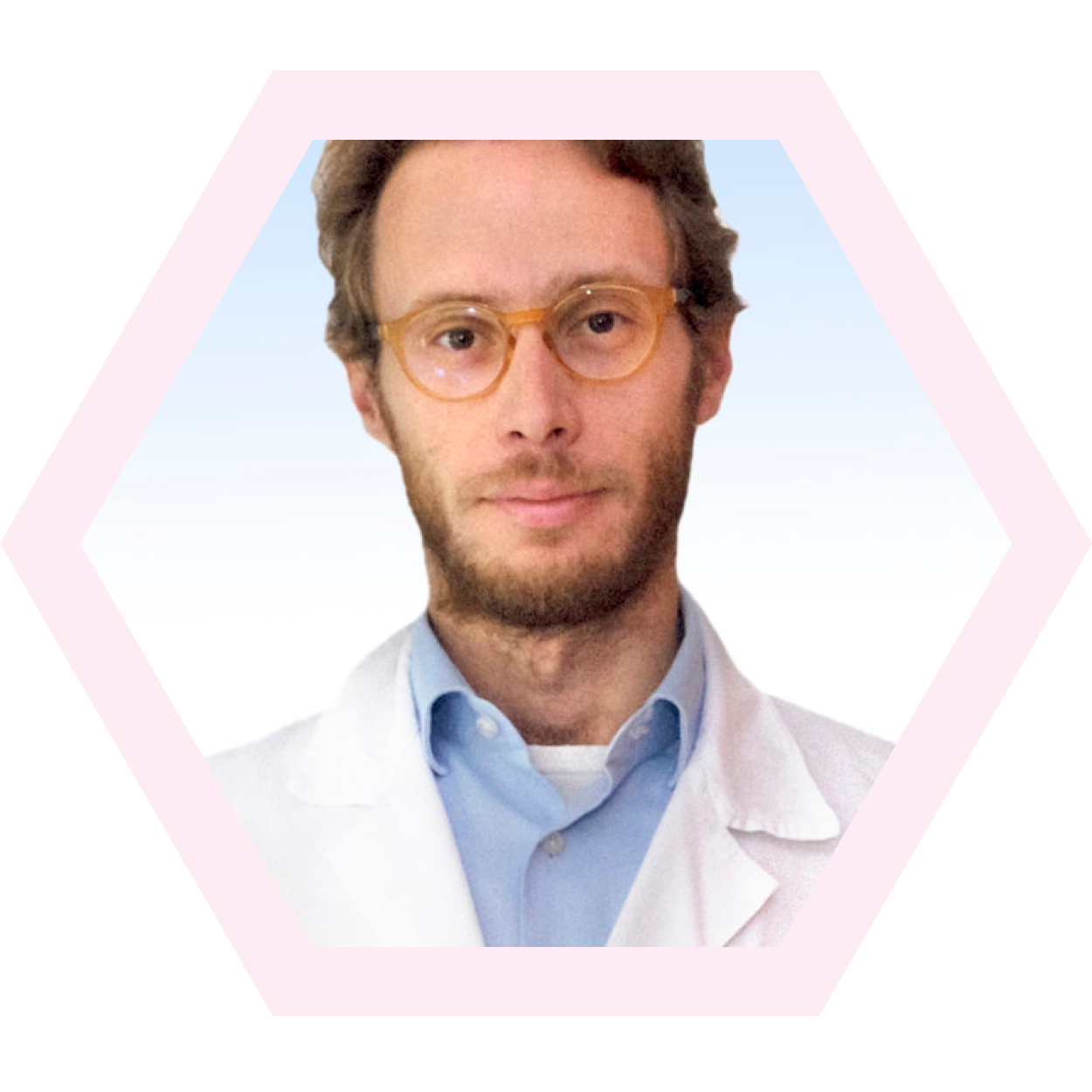 Dr. Eugenio Oliboni
IRCCS Ospedale Sacro Cuore Don Calabria, Italy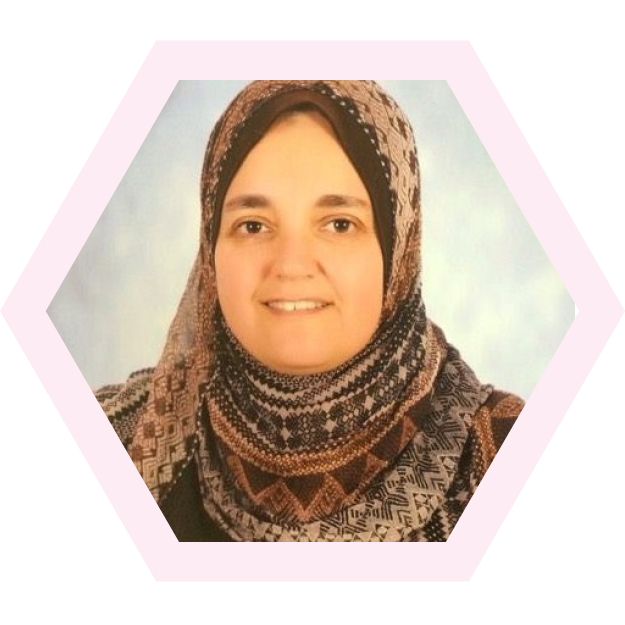 Prof. Rasha Kamal Fouad
Prof of Radiology, Head of the Women's Imaging Unit Cairo University, Egypt