Getting the best image quality with the lowest dose – for every patient, every time – has always been a huge challenge for CT exams.
But not anymore. Our premium SCENARIA View CT scanner
combines
high image quality and low dose with no problem.
This solution not only delivers natural, clear image textures at lower dose levels than ever before; it also comes with the industry's widest bore design – and an innovative automation package that improves your productivity and patient throughput.
Iterative processing

 technology Intelli IPV enables low-dose exams with no compromise on image texture – ideal for all your clinical challenges.

The open design

 with an 80cm-wide bore eases patient anxiety.
Places 

target regions in the FOV centre

 thanks to a patient table that slides 20cm to the left and right.
Provides great patient access and positioning options – enabling 

interventional CT procedures

.
Enhances productivity and patient throughput with 

SynergyDrive Automation Suite

, an automatisation suite for patient positioning, protocol selection, high-speed image calculations and post-reconstruction.
Why choose between low radiation dose and excellent image quality?
Now you can get both with SCENARIA View's CT scanner iterative reconstruction technology Intelli IPV. Visual Modelling reduces dose and noise with no compromise on image texture. And our dose control tools help you adapt your exams to the precise needs of each patient.
Automatically modulate mA to lower dose levels for each patient depending on their anatomy and size – plus the level of iterative reconstruction selected – with 

INTELLI EC PLUS

.

Small bowtie filter

 precisely targets radiation only where needed.

Higher data sampling rate

 provides faster anatomic coverage without sacrificing image quality, while reducing motion artefacts.

Lower kV settings 

to scan below the typical 120 kV – ideal for paediatric patients or for better contrast detection.

Reduced mA dose for cardiac CTA

 during the cardiac phases of a retrospectively gated exam.

Dose Reporting

 complies with all legal and clinical documentation requirements.
The more relaxed your patients are, the clearer their images – which leads to more accurate diagnosis and treatment decisions. That's the simple philosophy behind SCENARIA View CT scanner: the ideal blend of clinical functionality and patient comfort.
Industry-leading

80cm wide bore

eases patient anxiety and accommodates obese patients and children.
Allows

flexibility of scan positions

thanks to a spacious design.
Enables patients who struggle to raise their arms to be scanned with their

arms by their sides

(like the obese, elderly or trauma patients).
Puts

target regions in FOV iso-centre

for the best resolution thanks to a patient table that slides 20cm left and right.
Suitable for patients up to

250 kg.

Central control panel

manages all operations of the table and the gantry.

Patient instructions

on 15" touch monitor in various languages, including a version for children.
Our 
SynergyDrive Automation Suite
 improves your efficiency by automating, simplifying and accelerating many elements of the CT exam. It delivers quick and consistent results, high image quality, increased patient throughput – and ultimately a better patient and user experience.
You focus on the diagnosis and treatment care of your patients. And we'll take care of the technology getting you there. Just activate the scan modes and let the system do the rest.
.
Correct image artefacts caused by metal implants using

HiMAR Plus

.
Move the table back and forth for complete blood flow images in the brain (extended coverage for perfusion exams) with 

Shuttle scan

.

Dual Energy

 with double rotation method enables analysis of material composition through acquisition at two different kV energy levels.

AutoPose

 with completely automatic scan range recognition – without the technician touching the mouse.
You focus on the diagnosis and treatment care of your patients. And we'll take care of the technology getting you there. Just activate the scan modes and let the system do the rest.
.
Visualise organs from the inside – like the colon, bronchi, stomach, blood vessels, bladder, kidney, larynx or paranasal sinuses – through Cruising Eye View (CEV-CPR) with 

virtual endoscopy

.
Predict scan with 

bolus tracking

 for automatic scan start once the contrast agent has reached target vessels.
Quantify blood flow through the brain parenchyma with 

Perfusion Stroke Analysis

.
Perform a complete biopsy or pain therapy in real time from a large monitor in the scanner room Guide Shot for 

CT fluoroscopy

.

Enhanced Cardiac Package

 with effective coronary CT angiography (CTA) and calcium scoring tools.
SCENARIA View CT scanner is a true three-module system: consisting of just a gantry, table and console. No transformers or separate units are needed. It also comes with a powerful engine, reconstructing up to 128 slices per scan rotation – with quality images for a confident diagnosis.
Max. scan speed of 0.35 seconds for routine, high-speed protocol scanning.
40mm detector coverage.
64 discrete detector row & electronics, with 128 slice Fine Recon.
X-ray tube: 45 MHU equivalent.
Generator: 72kW standard, 84kW optional.

Easy siting

 with only three modules (gantry, table, console).

EcoMode

 reduces standby power consumption by up to 70%.

Remote application support

 to help optimise protocols or train technicians online with SENTINEL™.

Remote maintenance support

 delivers automatic notification of anything suspicious via SENTINEL™ – maximising your uptime.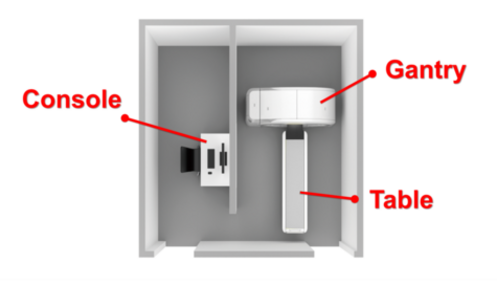 Brain CT scan of lacunar stroke (left) and meningioma (right), imaged at high speed with a 40mm wide beam, making it possible to image 3 scans in 7 seconds.
Brain CT scan of basilar artery aneurysm, imaged with Predictor scan to take a wide range of angiographies at the right time.
Neck CT scan of left internal carotid artery occlusion, with calcifications and further occlusions in the blood vessels.
Chest CT scan of lung cancer, clearly depicting the positional relationship between the pulmonary artery, pulmonary vein and the tumour.
Abdominal CT scan of hepatocellular carcinoma (HCC) in S5, with a detailed examination for cholangitis.
Abdominal CT of colorectal cancer, imaged at 45cm with 5 seconds of breath holding.
Whole body CT scan of dissociative aorta (Stanford A type), clearly depicting a dissociation space over the left and right iliac arteries from the ascending aorta, and false lumen.
Lower limb CT scan of left femoral artery occlusion (ASO), imaged at 100 kV in order to improve the visualisation of peripheral blood vessels.
Cardiac CT scan of mitral regurgitation. Even in irregular heart beats, the optimal cardiac phase of 92% is automatically selected.
Cardiac CT scan of D1 stent patency and LAD onset advanced stenosis, imaged with ECG Dose Modulation to reduce dose.
Vascular CT scan: by combining electrocardiographic and non-synchronized scans, tests for vascular diseases can be performed in one breath-hold.
Orthopaedic CT scan of shoulder joint fracture, imaged at the iso-centre using the flexible patient table.
Orthopaedic CT scan of L5 spondylolysis in a 15-year old patient.
Orthopaedic CT scan of post-operative, bilateral hip joint, compared to 'with and without' metal artefact suppression HiMAR.