APERTO™ Lucent™ MRI scanner
Prime Permanent Open MRI scanner
APERTO™ Lucent MRI scanner
Looking for the
perfect mix
of patient care, diagnostic functions and cost control?
Well, look no further. Our APERTO Lucent Open MRI scanner creates a calming environment for patients of all shapes, sizes and conditions – while giving you quality images at low running costs. Its unique, one-pillar open design helps reduce patient anxiety. Powerful gradients make scans fast and reliable for confident diagnostic results. And with a permanent magnet running strong throughout its lifetime, there's no need for additional equipment like a cooling unit.
Open, one-pillar design

 for claustrophobic, bariatric, geriatric and paediatric patients – or interventional scans.

Flexible patient table

 for easy positioning of the scan area in the centre of the magnetic field.

Strong imaging features

 with outstanding image quality.

Permanent 0.4T magnet

 with low installation and running costs
APERTO Lucent MRI scanner is the
ideal solution
for high-standard outpatient centres and private clinics.
Put
patient comfort
at the heart of your exams - while maintaining
cost control
with a quick return on investment.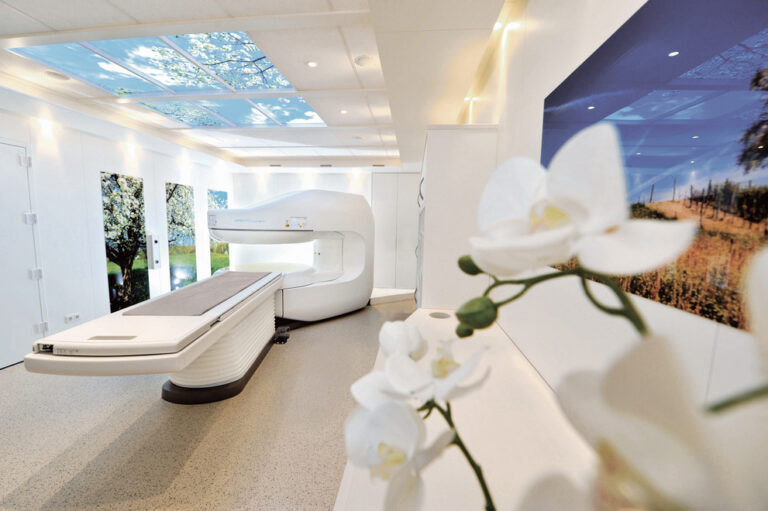 Panoramic open design for maximum patient comfort
The open design of the APERTO Lucent MRI scanner delivers an unparalleled 320° round view for a spacious feeling and a relaxed patient experience. Thanks to its unique one-pillar configuration – with two magnets on top and bottom – they'll be amazed at how easy an MRI exam can be.
Open architecture

 accommodates claustrophobic, bariatric or paediatric patients.

Patient table

 with in-gantry movement to left and right – for easy positioning of extremities like shoulder or knee in the centre of the magnetic field.

Quiet scans

 with no need of earplugs.
Scan 

non-contrast MRA

 images of complex vascular systems without injecting any contrast agents with VASC-ASL.
Diagnostic power for confident result
Our APERTO Lucent MRI scanner doesn't just offer unique patient comfort, it also delivers high-quality images for a confident diagnosis and treatment decision. In fact, its many sequences allow you to tackle all clinical MRI challenges.
Many imaging features

 for a wide range of clinical applications, such as non-contrast angiography, diffusion or spectral fat suppression.

Motion artefact suppression

 technology RADAR compensates for body movement due to anxiety, breathing, swallowing or heartbeat.

Fat suppression

 acquires clear in-phase and out-phase images simultaneously.

High contrast 3D reconstruction

 from volume data.

High order shimming

 to increase uniformity of static field.
The APERTO Lucent MRI scanner helps you work productively with many easy-to-use and automated functions that deliver consistent results with higher patient throughput – so your patients spend as little time in the scanner as possible. 
Parameter suggestions

 during set-up.

Automatic slice positioning

 with AutoPose.

Customise routine protocols

 (even during the scan) to fit your patient and clinical needs.
Reconstruct multiple cross-sections of complex structures from 3D imaging sequences with 

Curved MPR and Radial MPR

.

Remote application support

 to help optimise protocols, train technicians – and control the entire exam online with SENTINEL™.

Remote maintenance support

 delivers automatic notification of anything suspicious via SENTINEL™ – maximising your uptime.
If you're looking for a durable, space-and-cost efficient MRI system, the APERTO Lucent MRI scanner with its permanent magnet is for you. 
The permanent magnet

maintains its high performance during its lifetime.

No cooling system and no equipment room

necessary.

Small footprint

with only three units: the gantry, the console and the power station.

Green system

with a maximum 5kW power consumption for low running costs.
Low TCO with excellent, fast

return on investment

.
While you focus on the diagnosis, we'll take care of the technology. The APERTO Lucent MRI scanner is built on strong, durable and reliable hardware – particularly the permanent magnet, which makes the system very easy to handle.
0.4T permanent MRI

 scanner with a vertical field and open one-pillar design with a 320° view.

Strong gradient

 with 25mT/m max. strength and 55T/m/s max. slew rate.

Fully motorised patient table

 with 225kg weight limit, 15cm left/right movement in gantry and the ability to lower to 49cm.

Highly sensitive solenoid receiver coils

 – especially effective for orthopaedics.
Brain MRI Scan of cerebral infarction. DWI with automatic ADC Map calculation shows affected brain tissue, 3D TOF angiography depicts occlusion of left-middle cerebral artery.
Brain MRI scan of suspected trigeminal neuralgia, imaged with 3D isotropic BASG sequence with MPR reconstructions.
Spine MRI scan of suspected cervical spondylosis. Diffusion shows increased signal in multiple vertebras suggesting osteomyelitis.
Spine MRI scan of lateral lumbar disc herniation. FatSep Myelography precisely depicts nerve root compression.
Shoulder MRI scan of rotator cuff tear, imaged with RADAR T2 and T2 FatSat. Central anatomy positioning supports excellent fat saturation.
Knee MRI scan of hyper-cellular bone marrow, imaged with MultiContrast FatSep.
Hand MRI scan of rheumatoid arthritis. Fast scan with MultiContrast FatSep, easy positioning by the side and central anatomy positioning supports excellent fat suppression.
Ankle MRI scan of suspected cellulitis / osteomyelitis. Central anatomy positioning supports spectral fat saturation.
Abdominal MRI scan of metastatic liver cancer, imaged with Dynamic T1 post-contrast sequence.
Non-contrast vascular MRI scan of portal vein, renal artery and upper limb artery with VASC-ASL.
MRI scans of hepatic cyst, left hydroururia and multiple liver cysts, imaged with heavy T2 sequences for MRCP (cholangiography) and MRU (urography).
Abdominal MRI scan of prostatis, imaged with free-breathing RADAR sequences and various fat suppression methods.